I like to think that every kid remembers when their parents let them eat ice cream for breakfast when they were on vacation or got to splurge on one of those giant cookies that's nearly the size of their head … and that's basically what today was like!
…and not just because I woke up to find Christopher eating chocolate chip cookies for breakfast… 😉
No theme parks for us today. We had originally slotted today to visit the Animal Kingdom, but as we're checking out tomorrow, we wanted at least one day where we could spend a little more time and really enjoy the resort where we're staying (Wilderness Lodge). And admittedly we still didn't do a ton – I took Christopher swimming while Sara sat on the edge with the twins, which only lasted about 20 minutes because it was a bit chilly by his standards! Then we packed up and headed over to Disney Springs for dinner and shopping and snacking and more snacking…
One of the big highlights was definitely dinner at Blaze Pizza – one of the new restaurants at Disney Springs where you can design any pizza you want … they have a neat assembly line approach where a good half a dozen people stand in line in front of the various ingredients and then you follow your pizza, telling each person what you want from sauce to cheese to meats and veggies … and it was really good pizza, too!
Sara was very happy with it and she's not always crazy about pizza, so that ended up being a pretty big plus in my book! 🙂
We also ended up with some treats from Goofy's Candy Co, namely because we were in the area and Sara needed a place to breastfeed – preferably indoors – and they've got a nice little area with tables in the back that most people never even think about, so we were able to sit out of the way around the corner and nibble on gingerbread mickeys and rice krispie trees while the twins ate their own dinner of sorts!
And of course, despite the photo here being of the cute Santa Mickey cupcakes from Goofy's display case, I actually ended my evening with a couple of cupcakes from Sprinkles because I deserve it. 😛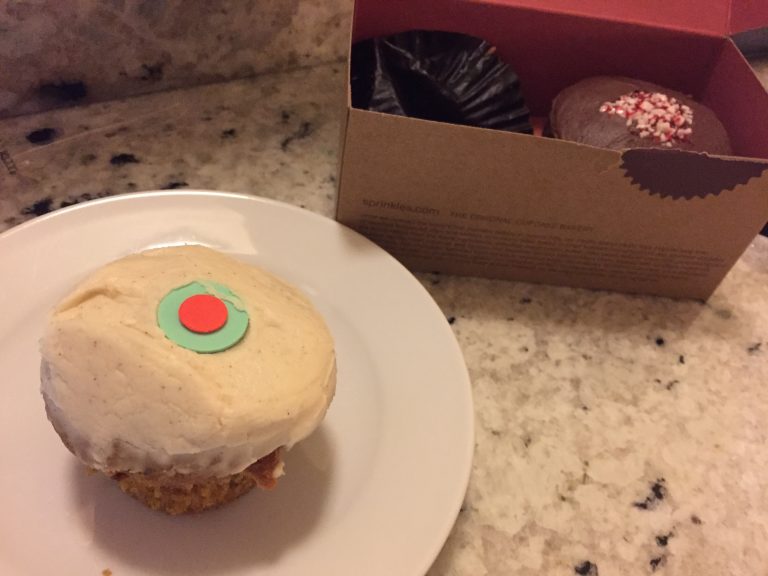 I'm a bit sad that we have to checkout tomorrow because it's been a pretty great week away from our usual – very relaxing, and it seems like we always find ourselves joking that we wish we could just go back to our hotel when we're here for a single day at one of the parks. I've always loved the special vibe that each of the hotels has in extending the magic out from the four theme parks themselves, and I've often argued that it would be pretty easy for me to come to Disney for a week and never even set foot inside one of the parks if I were staying at one of the Disney hotels.
I think one of my New Years Resolutions for 2017 is going to be working towards figuring out how to do vacations like this over here more often … you know, for the kids! 😉