Last night we made the pilgrimage over to the Magic Kingdom to partake in the final showing of Wishes.
And we certainly weren't alone because WOW, was the place absolutely packed!!! 😯
We didn't end up getting the greatest view because after grabbing dinner at Casey's, pretty much all of Main Street and the hub were packed and cast members were routing people back down the street by the train station, so our view was partially obstructed by the facade for the Emporium's refurb, but honestly it didn't really matter … I think what was important was really just getting to be there for the show in the first place.
It's definitely weird to call this this end because really, Wishes has been the fireworks show of the Magic Kingdom for as long as I can remember! I began visiting back in 2005 and it started only two years earlier … and technically the park has only seen two shows in its entire lifetime – Fantasy in the Sky from 1971 – 2003 and then Wishes from 2003 – 2017. In the last 12 years, I think I've watched that show from just about every angle imaginable – Main Street, the California Grill at the Contemporary, the beach at the Poly, and even from the parking lot!
And don't get me wrong, I'm curious to see what Happily Ever After looks like, but this will still probably be the most significant change that I've faced since I started coming to Disney World as an adult.
Wishes always had such a great soundtrack, such a great presence – as Tom Bricker of Disney Tourist Blog put it, it just served as a great finale to a long day at the Magic Kingdom, whether you were still buzzing on magic and sugar or exhausted and otherwise ready to head back to the hotel. I've personally had more than one person tell me afterwards that if we hadn't implored them to stick around, they would've likely called it a day after dinner and passed on fireworks, and they were VERY IMPRESSED and glad that they stayed.
It was just that kind of show that really wrapped up the "theme" of the theme park, much in the same way that IllumiNations and Fantasmic do a great job of doing so for their own respective parks…
So it seemed only fair that we made the trip to give Wishes a proper farewell along with tens of thousands of other fans. Together we all stood as a family at the end of Main Street watching, with Christopher afraid of the fireworks but his younger brothers definitely curious, and the narration of Jiminy Cricket reminding us all to believe in the power of our wishes one last time.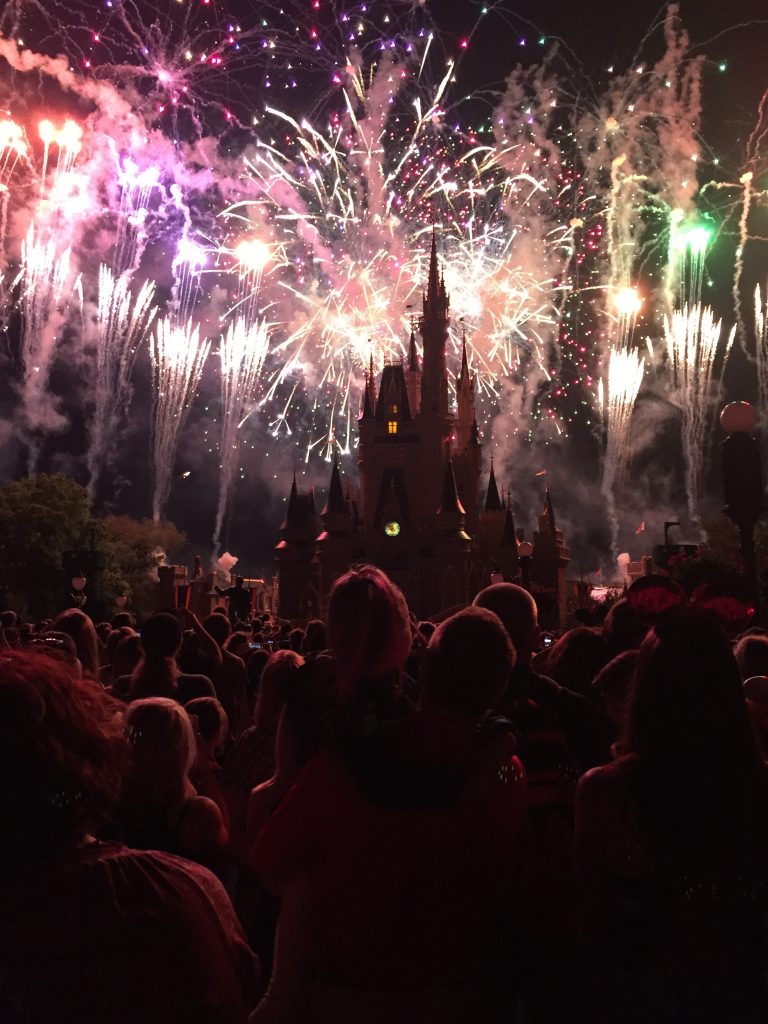 "The most fantastic, magical things can happen,
and it all starts with a wish!"