Between enduring a really long (and yummy) dinner and an equally long (and awesome) fireworks show, we recognized that yesterday didn't really have much for Christopher and he ended up spending a lot of the day strapped into his stroller, so today we wanted to make sure we had some things that he could enjoy that would also give him a chance to burn off a little energy before we made it back to the room at the end of the day!
Dumbo has really become a staple for us at the Magic Kingdom, admittedly not as much for the classic ride but for the awesome playspace that they have setup for you to wait for your time to ride. We've had several times where we've hung around the playspace long after our pager to fly actually went off, and that's what we did this time as well because it gave Sara a nice chance to sit indoors and breastfeed the twins while I tried to keep up with Christopher running around and repeatedly trying to climb up the slides…
I know it's fun, but you can't have kids going up and down the slide at the same time – slides do not work that way!!!
We've also been having a lot of fun on the Tea Cups, both because the line typically tends to be fairly short and also because Christopher likes watching all of the colors spin as we go round and round. We used to play a game similar at home where I'd hold him and we'd do circles real fast, then try to keep from falling down and he always thought it was hysterical, so go figure. 😉
And during Extra Magic Hours, we were able to walk onto the carousel TWICE, which is another favorite of his. Sara pointed out after we rode the Tea Cups how it was kind of neat that he's getting to the point where he's actually recognizing different attractions that he enjoys at Disney, which makes him both awesome and incredibly spoiled and also incredibly loved, in any order that you'd like…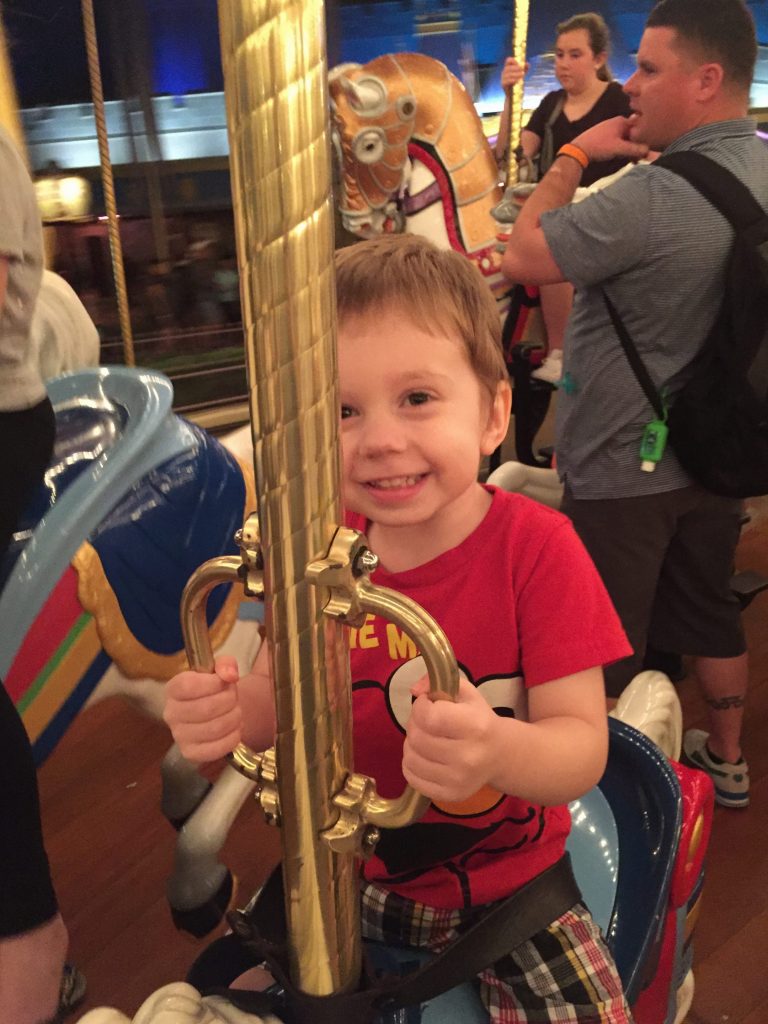 One final highlight from a parenting perspective that I must point out for our day at the Magic Kingdom is that hands down, transportation via boat is now our favorite way to get there simply because not once did we have to fold up our stroller and sherpa all of our goods and children like we do with the buses and trams. In fact, on our way to ALL THREE KIDS managed to catch a little afternoon nap, which we're told by other parents should be considered a sort of Christmas miracle all by itself. 😉