Today was a day of family fun at the Sea Life Aquarium over in Orlando!
Aside from the crying tantrums, and the not wanting to listen, and the general fussiness that comes from being a two year-old, but family fun just the same!!! 😯
It can be frustrating how one minute he's doing great at holding hands and even seeks one out from you before he'll start walking, and the next minute you can just forget it! I think even more than all of the fish and sharks and turtles, Christopher probably liked just being permitted a bit of freedom to run around with his cousin and look at the different exhibits … within a reasonable proximity of us, of course…
They had some neat tanks, though – a nice, albeit smaller alternative to The Florida Aquarium here in Tampa, which ironically Christopher also just visited last week with a different aunt! A few of the monitors at the backs of the tanks did admittedly feel a little out of place/forced, and I couldn't help but wonder as we first walked in whether the opening video was a bit too intense for the schooling fish in the tanks around the circular room because they didn't seem to move around that much, but I did like that there were lots of interactive areas, including those bubble things where you stick your head up through to look from inside the tank.
Christopher and I had a lot of fun looking through those together! 🙂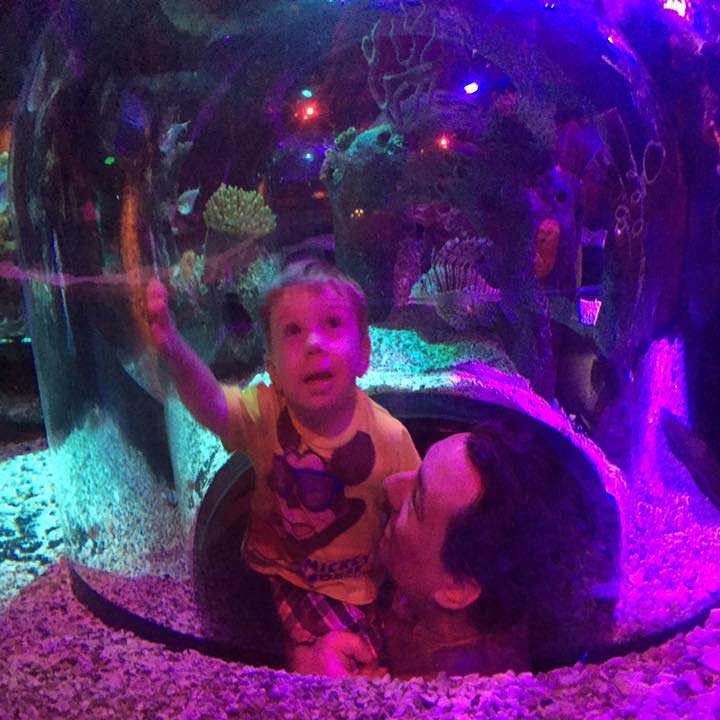 We ended up rounding out the visit with a good hunk of time just spent letting the kids climb around the play area because if there's anything we've learned, it's that loading an already tantrum-y kid back into the car for an hour-plus car ride home without giving him a chance to blow off a little steam is just a recipe for a miserable drive! Plus, it gave him a chance to play some more with his cousin Madelyn and it was super cute how much laughter she was getting out of him, so I certainly couldn't as a loving father and uncle interrupt that. 😉
By the end of the day, we still hadn't gotten a chance to check out the creepy wax museum that's also included in our tickets, so I'm sure we'll be back at least one time again more. Not sure what the two year-old will think of that one, but overall it's a nice, little complex they've got there on I-Drive with a growing variety of eateries and trinket stores nearby.
We didn't get a chance to go up on the Orlando Eye this time simply because of thunder and lightning and whatnot, but the last thing I would've needed this evening would've been a tantrum-prone toddler being stuck in a metal box 300-feet up in the air while the Mighty Thor himself threatens our entry into his realm with a terrifyingly special light show just for us all around! 😯