We made it!
And everything fit in the car!
And the day was filled with several meltdowns from each and every one of our kids!
But we made it to Christmas vacation!!! 😀
The battle was long and arduous, beginning with maybe four hours of sleep since last night before resuming our vacation prep with reckless abandon. I was pleasantly surprised to see that the packing of the car didn't end up being that bad, though anything else would've just about required sitting on our laps to make it in for the journey!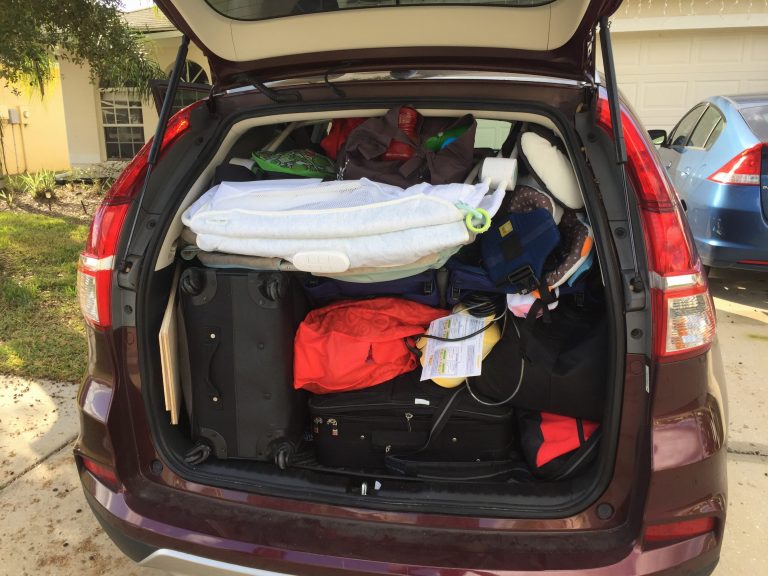 Funny enough, we actually got the text message from Disney that our room was ready before we even left the house, so we ended up just heading straight to the hotel to get unpacked and settled in … which worked well because we needed to go grocery shopping later anyways and there was no way we were going to be fitting grocery bags and a case of water in the car when it was burdened down with our family of five's luggage for a week's vacation… 😛
Our home base for the week is the Boulder Ridge Villas at Disney's Wilderness Lodge, which is a mouthful but a very nice resort particularly during the holidays. We stayed here for Christmas once before – I believe the year before we had Christopher – and just fell in love with all of the decor, very resemblant of Northern Michigan during the winter, but without all of that bothersome snow to get in the way!
The wreaths even have antlers on them … remind you of anyone from a classic Disney movie from the '90s??? 😉
Eventually we made our way down to Disney Springs to grab some dinner and meet Santa. The wait time can fluctuate wildly – it was 45 minutes when we walked by for dinner and changed from 120 to 150 minutes by the time we'd gotten back – but they actually control it fairly well by handing out pagers like you'd find in a restaurant so that you can wander and shop while you're waiting. Ours actually went off during dinner and we took about 20 minutes to get back to Santa's workshop, but our overall wait in line was still maybe 15 minutes at best…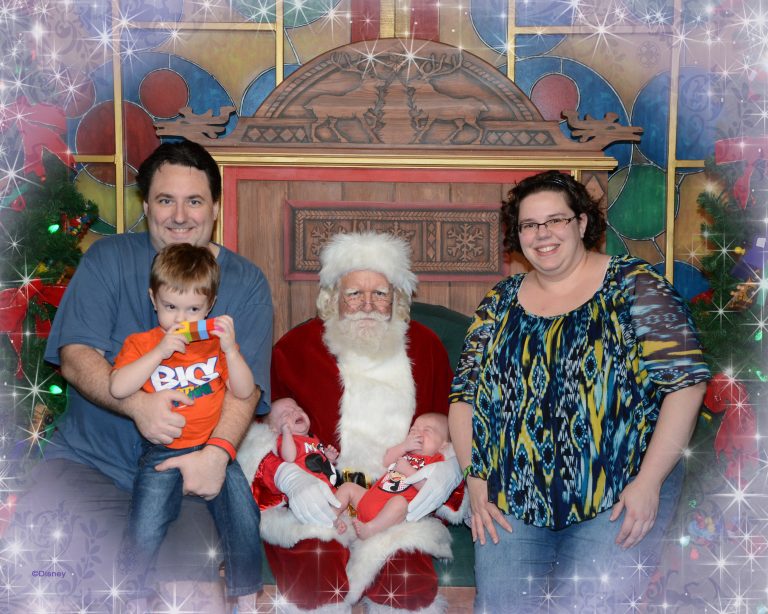 Of course, it goes without saying that the night wouldn't have been complete without at least a couple of meltdowns due to sheer exhaustion, most of which hit while we were leaving to go grab groceries, so needless to say we were a bit grateful to finally get back to our room and just wind down for the evening, binging on desserts from Amorette's Patisserie – a new dessert place at Disney Springs that Sara loves – and trying to figure out both how and where Christopher was going to sleep whenever his energy finally ran out!
Tomorrow we hit Epcot for some Candlelight Processional fun and maybe a little Holidays Around the World, so time to get some well-deserved sleep… 😀